How to choose the perfect sex toy for your man
Looking for the perfect sex toy to surprise your fella for that special occasion? Don't get lost in the maze of choices! Let our LOVE Team, experts in the art of pleasure, guide you. With us, gift him an experience he won't forget!
When it's time to pamper your man, surprise him, or add a spark to your intimacy, opting for a sex toy can be a genius move. But with a world of options out there, how do you find that gem that'll get his heart racing (and a whole lot more)?
Why gift a sex toy to your favourite bloke?
How many times have we wrapped up a tie, a bottle of cologne, or the classic paperback, hoping we've nailed the perfect present? While these gifts have their charm, they often lack that zesty flair and creativity. So, why not go for something a bit more unique and daring this time around?
A gift they won't forget: Compared to the usual suspects, a sex toy is undeniably fresh and novel. It's the kind of surprise that sticks in the memory.
Fits any occasion: Be it a birthday, Valentine's Day, Christmas, or even celebrating your relationship milestone, a sex toy emerges as the top-tier gift. It's versatile for any scenario and any sentiment you wish to convey: be it passion, love, discovery, or a dash of adventure.
Shared delight: The real beauty of a sex toy? It's not just a treat for him; it's a treat for both of you. It beckons mutual exploration, diving into new sensations, and reigniting the joy of intimacy together.
Rekindling the spark: Introducing a cheeky toy into your shared life can be the antidote to monotony. It offers avenues to explore new depths of your intimacy, surprise each other, and fortify that special bond you share.
Choose the perfect toy to suit his tastes
Venturing into the world of sex toys can sometimes feel like navigating a thick, enigmatic forest. Each path leads to a distinct experience, a fresh sensation. But fret not, for we're here to light up your way. Whether your fella is a newbie to the realm of intimate toys or a seasoned adventurer, there's always a new escapade awaiting him.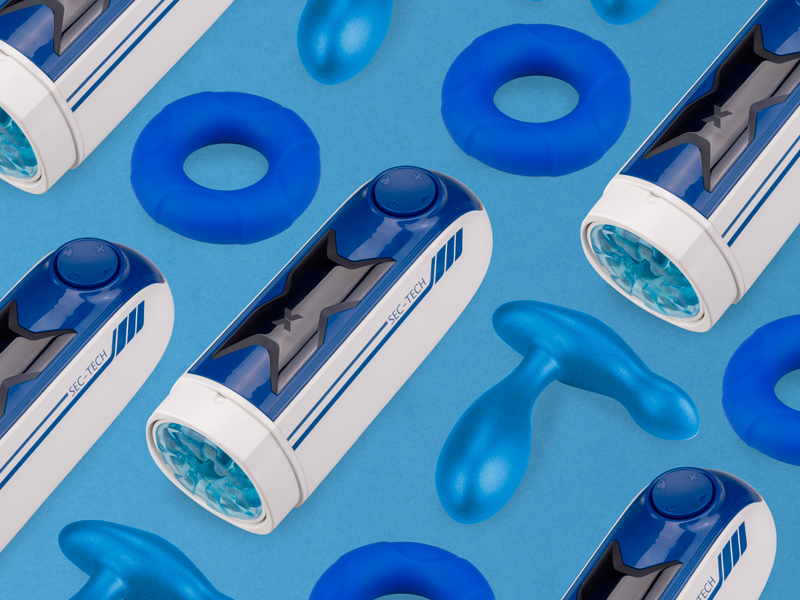 For the chap seeking new sensations
One of the wonders of the male body is its ability to derive pleasure in a
myriad of ways
. Among these, prostate pleasure remains a lesser-trodden path for many. If your bloke hasn't yet delved into this side of his intimacy, perhaps it's time for a revelation.
The prostate massager beckons with the promise of deep, intense sensations. Some even claim that a prostate orgasm packs more punch than the conventional climax. With its ergonomic design and silky texture, it's crafted to target the prostate, ushering in waves of unparalleled pleasure.
Your man will surely relish using it solo during his private moments, exploring this novel form of ecstasy at his own pace. But don't feel left out! Bringing the prostate stimulator into your shared escapades can turn foreplay into a thrilling journey, rejuvenating your bond and deepening your intimate connection.
For the tech-savvy gent
If your man's the type who's always flaunting the latest
smartphone
, sporting the most recent smartwatch, or jamming with the newest earbuds, we've got just the sex toy for him!
An automatic masturbator isn't just about stimulation; it's a tech marvel. Customisable vibrations, meticulously calibrated thrusting motions, a fragrance diffuser for a multi-sensory experience, audio programmes for an immersive soundscape, and hands-free mode for complete freedom. Yes, you read that right. It's like having a personal pleasure assistant just for your bloke!
With such a gizmo in his grasp, his solo sessions will be utterly transformed. He'll have a veritable pleasure control centre, letting him explore and experiment as he fancies. And who knows? You might even be tempted to take the reins of this high-tech toy, surprising him and guiding his sensory escapades.
For the bloke keen on sharing the pleasure
Intimacy between partners is all about sharing, a harmonious dance where every touch, every sensation is experienced in tandem. What if there was a
toy
that could amplify this connection and multiply the pleasure for both?
The vibrating cock ring is a pledge of shared ecstasy and closeness. Designed to be worn at the base of the penis, this nifty device offers dual delights. For him, the ring enhances erection quality while prolonging climax. For her, every thrust is heightened by the gentle tremors radiating from the ring.
It's a symbiotic experience, where each partner revels not just in their own pleasure, but in the other's too. It's a journey, a shared adventure where every path leads to mutual discovery and collective bliss.
For the bloke who seems to have it all
Ever heard of the
ballstretcher
? At first glance, it might seem a tad peculiar, perhaps even entirely unfamiliar. Yet, this little steel marvel is causing quite the stir in the sex toy realm. Positioned around the scrotum,
the ballstretcher acts like a snug embrace
, heightening the sensitivity of the testicles while gently stretching the scrotum.
The perks? Boosted sexual stamina, amplified sensations, and a turbocharged climax. It's like rediscovering one's own body, venturing into uncharted erogenous zones, and experiencing pleasures previously off the radar.
For the bloke with a big heart and bold desires
If your man's got that overflowing passion and insatiable curiosity, we've got just the thing to spice up your shared moments.
Consider a blow up sex doll! Ditch the clichéd image of the stag do blow-up companion. Today's models are strikingly lifelike, boasting true-to-life details and realistic textures. If the idea of introducing a third party to your boudoir gives you pause, this doll might just be the ticket to making your man's fantasy come alive.
With multiple entry points, some even featuring a mouth designed for oral pleasure, the role-playing possibilities are endless. Whether it's to add zest to your foreplay or to embark on a wholly novel escapade, she's there to join the journey.
Pleasure and intimacy are personal journeys, unique to every couple. There's no one-size-fits-all guide to perfect delight, but we hope these suggestions steer you towards the ideal gift for your bloke, whatever the occasion.
Remember, it's all about sharing, discovering, and having a blast together. If you ever feel a tad lost or need some extra guidance,
don't hesitate to give us a shout
. We're here to ensure your experience is both memorable and gratifying. Happy shopping and above all, have a cracking good time!