How to choose a prostate massager
In just a few years, prostate massage has become increasingly common amongst men who are seeking new kinds of pleasure – and with good reason. Prostate stimulation will significantly increase the sensations you feel during solo or partner play. To make your experience more intense, you can use a prostate massager. But how do you know which one is right for you?
The LOVE Team has put together this buyer's guide to give you all the information you need to consider when purchasing your first prostate massager: What size? What design? What material and what features?
Keep reading to find out all of the important factors to keep in mind while shopping. Get ready to experience powerful P-spot stimulation!
Prostate orgasm: Discover new sensations
Buying a prostate massager will definitely take your sex life to the next level, by increasing your pleasure during solo or partner play. Here are just a few advantages of prostate massage:
Intense prostate orgasms: You're most likely familiar with the feeling of a "classic" orgasm. The prostate orgasm is even more intense and long-lasting. Thanks to a prostate massager, you'll trigger the powerful sensations even more easily.
Improved physical well-being: Prostate stimulation may limit the build-up of fluid in the ducts, helping to keep your prostate in good shape. P-spot massage may also improve your health by preventing the onset of certain medical conditions, such as prostatitis and benign prostatic hyperplasia.
A spicier sex life: When used alone or with a partner, a prostate massager will increase the sensations you feel. During partner play, a massager will strengthen your intimate bond and make your sex session even more intense.
Which design of massager should I choose?
The design of the prostate massager you choose will make a big difference in how you use it. Every design has its own advantages and drawbacks. Prostate massagers are typically either dildo-shaped or anchor-shaped. Here's a little background info about these two kinds of toys.
A dildo-shaped massager
Elongated and slightly curved, a dildo-shaped massager is similar in shape to a penis. This kind of stimulator is incredibly popular with fans of full-body anal massages. This toy will stimulate your prostate directly, with great precision. These massagers are sometimes equipped with a suction-cup base, so you can use it hands-free all on your own.
An anchor-shaped massager
Compact and designed to stimulate your prostate directly, an anchor-shaped massager is easy to insert and use. It stays in place while you're using it, making it totally comfortable completely comfortable. These toys also have a handle for added safety and control.
Each of these kinds of massager will give you an extraordinary experience. It's up to you to choose the one that's right for you.
The right size for a perfect massage
Choosing the right size for your prostate massager is an essential step. If you're just a beginner, you don't want to go for the largest size immediately, for example. Follow our advice to find the perfect fit!
A small massager for beginners
Prostate massage novices should choose a small, slim prostate massager to start with. This will help you get used to the new sensations, and you can always size up with more experience.
A medium massager for those with a little more experience
Once you've experienced the delights of a smaller-sized stimulator, you can move up to a medium-sized model to continue to explore P-spot pleasure in a more intense way. Medium-sized massagers are the perfect compromise for those who are looking for a deeper kind of stimulation, but aren't quite ready to take on a larger shaft.
An extra-large stimulator for experts
If you've become somewhat of an expert in the field of prostate massage and prefer a girthier shaft, go for an extra-large massager! The sensations will be extra intense as you feel the extra-thick toy against your P-spot. Keep gradually increasing the diameter of your toy by a quarter of an inch until you reach the perfect size for you. Congratulations – you've come a long way from the beginner's size you started with!
What material should I choose for my massager?
It's important to choose the right material for your needs and budget. Here are some of the characteristics of the most used materials for prostate massagers.
A silicone prostate massager
Silicone is the perfect material for beginners. The silky texture of silicone will make your massager easy and comfortable to insert. As it is non-porous and highly hygienic, silicone can be easily sterilised, which is definitely a plus when it comes to anal sex toys.
A TPE/TPR prostate massager
TPE and TPR are very soft, realistic to the touch and cheaper than silicone. However, unlike silicone, these materials are also porous. That means that you'll have to take care to clean your toy regularly with a special sex toy cleaner to get rid of harmful bacteria. While TPE and TPR are cheaper alternatives to silicone, your toy likely won't last as long as a silicone one.
An ABS or plastic prostate massager
ABS (or plastic) prostate massagers are extremely rigid, which is perfect for those who like a firmer kind of stimulation. They are also easy to clean, as they are non-porous. Another plus is that they can be used with any type of lubricant.
A metal prostate massager
Metal prostate massagers are incredibly popular because of their durability and strength. Just like ABS, the firmness of the metal will feel great against your sensitive P-spot. Metal toys are non-porous and can be sterilised, so you can share them with a partner. They are also compatible with any kind of lube you'd like, even oil.
A glass prostate massager
Glass prostate massagers are incredibly versatile toys that can be used for temperature play. You can dip your glass toy into hot water to warm it up, or into cold water to cool it down. Non-porous and easy to clean, glass is the perfect hygienic choice. Plus, glass sex toys tend to have fun and attractive designs, making them more of a work of art than a toy.
Extra features for your massager for extra fun during your session
Certain prostate stimulators even have extra features to make them more inviting. Read on to find out more!
A manual prostate massager
A manual prostate massager is ideal for beginners. Easy to use and small in size, this kind of stimulator will allow you to gradually explore your body at your own rhythm, gently awakening your sensuality.
A vibrating prostate massager
A vibrating prostate massager will give you even more intense stimulation. You can adjust the mode and speed of the vibrations to suit your mood and enjoy an explosive sensual moment.
A thrusting prostate massager
Add a new dimension to your pleasure session with the thrusting prostate massager. This luxurious male sex toy is designed to provide intense, targeted stimulation of the prostate with a shaft that thrusts back and forth during penetration.
This type of stimulator is incredibly popular because it requires no effort from the user. All you have to do is insert it and let it work by itself. The deep, automatic movements provide constant, precise stimulation of the prostate, leaving you free to relax and enjoy the experience to its fullest.
What's more, the orgasm you'll achieve with a thrusting prostate massager will be no less than explosive. The deep strokes will increase the intensity of the stimulation, making your climax more powerful and longer-lasting.
A remote-controlled or app-controlled stimulator
A remote-controlled or app-controlled prostate massager is perfect for couples. Using the remote, your partner can control the rhythm of the vibrations from a distance. With an app-controlled model, that distance can be from the other side of the world! Now you can experiment with prostate play with your partner no matter where you find yourselves.
A prostate massager with a cock ring
This 2-in-1 massager for men will stimulate your prostate while increasing the flow of blood to your penis, keeping your erection large and in charge for much longer. As this toy will delay ejaculation, your orgasm will be all the more intense when it arrives!
A heated prostate massager
A heated prostate stimulator will warm up to suit your body temperature for more comfort and pleasure. The warmth will help your anus dilate, making insertion easier.
A curved prostate massager
Thanks to its user-friendly design, a curved prostate stimulator will skilfully stimulate the P-point with perfect precision.
A beaded prostate stimulator
A bead prostate stimulator features several beads on its shaft. Oftentimes, the beads will be of different sizes, so you can start with a less intense diameter and work your way up to a more powerful kind of stimulation.
A prostate stimulator with a testicle massager
A combination prostate-stimulator-and-testicle-massager stimulates both the testicles and the prostate at the same time for an unforgettable experience.
A prostate massage with a penis cage
The prostate massager with a penis cage will appeal to fans of BDSM play. Thanks to this multifunctional toy, your partner will be able to control your erections and stimulate your prostate at the same time.
A prostate massager to suit every budget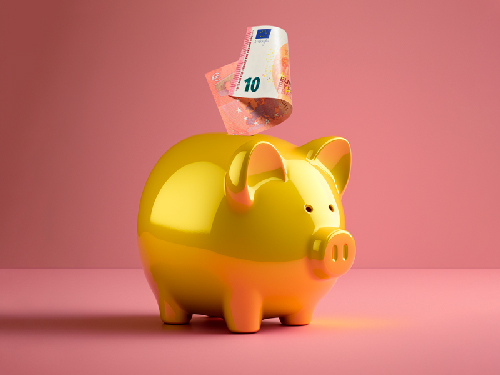 There is a wide range of prostate massagers available on the market, from the simplest to the most sophisticated, from the most affordable to the most luxurious. You're sure to find the right model for you.
The simplest models (often made from TPE/TPR) are ideal for those on a budget. These wallet-friendly options will introduce you to a new kind of erotic play without you having to splash out too much money.
Higher-end models (made of silicone, glass or metal) offer more refined pleasures. Extra features (like vibrations, remote controls, or thrusting action) will also set you back a little more, so you'll have to decide what's most important to you.
We recommend that you invest in a more affordable model first to see if you enjoy prostate play first. If you fall in love with the sensations, treat yourself to a more expensive model as an investment. After all, are you willing to put a price on your own pleasure?
Choosing the right prostate massager is not an easy task. That's why the LOVE Team has created this guide to help you find your way around our wide selection of male sex toys. We hope that you find the perfect toy for all of your exquisite evenings full of prostate play.
The LOVE Team wants nothing more than your sexual satisfaction. If you need any more information about choosing the right massager, feel free to contact us at any time. We'd love to help you out!