How to choose a male masturbator
On the hunt for the perfect masturbator? Look no further! Start your search by thinking about your personal preferences and desires: after all, the perfect masturbator will be the one that suits you best! Whether you're looking for familiar sensations or are eager to explore new pleasures, we have an extensive selection of masturbators that you'll love. So, what are you waiting for? Let us help you find the perfect match for your next solo session.
Since 2011, we've been dedicated to providing the finest selection of masturbators to satisfy even the most discerning users. With an extensive range of options to choose from, finding the perfect fit can be a challenge. That's why we've compiled a comprehensive guide to give you all the information you need to make the right choice. Count on our expertise to steer you in the right direction and ensure that you select the best toy for your needs.
Why should I use a masturbator ?
There's no denying that masturbation is a healthy and beneficial practice that promotes physical and mental well-being. Not only does it give you sexual pleasure and reduce stress, but it may also enhance sleep quality and elevate your overall mood. Exploring your own pleasure can also help you become more attuned to your body and develop greater control over your arousal, which can lead to a more fulfilling sex life with or without a partner.
Exploring new sensations is an excellent way to break out of your regular routine and keep things exciting, and using a masturbator is a great way to do just that. Our models are designed to provide a wide range of thrilling features that can be enjoyed either solo or with a partner. Whether you're seeking a new level of pleasure or looking to spice up your relationship, our male masturbators are the perfect tool to add a little extra excitement to your love life.
The different types of masturbators
Manual masturbators
If you're seeking a more hands-on approach to pleasure, our manual masturbators are just what you've been looking for! These motor-free toys are ideal for a personalised experience, as they allow you to control the pace and intensity of your movements. They're also an excellent option for foreplay with a partner, providing a sensual and intimate moment that's sure to ignite passion and desire.
Thanks to their affordability and realistic feel, manual masturbators have become incredibly popular. Not only are they compact and lightweight, making them easy to store and travel with, but they're also discreet and whisper-quiet.
Just like Fleshlights, some of our models even come with plastic casing for easy grip and hygienic storage.
If you're generously endowed, we recommend exploring models without plastic casing, which offer a larger diameter for a more comfortable experience.
Realistic torso and ass masturbators
For a truly lifelike and immersive experience, we highly recommend our realistic torso and ass masturbators. These models are designed to provide remarkably lifelike sensations to satisfy your visual and tactile desires. If you're seeking the excitement and pleasure of actual sex, these masturbators are the perfect option for you.
Our selection includes male, female, and trans models of all sizes, so everyone will find the perfect model. Our full-size models provide a true-to-life experience during solo play, while our smaller, lighter options are more easy to handle.
Crafted from materials that look and feel just like real skin, our sex toys are a pleasure to touch and explore. From voluptuous female busts to bouncy asses to ripped torsos, our collection offers a thrilling range of choices for your pleasure.
Automatic masturbators
Experience totally effortless pleasure with our automatic masturbators. Equipped with one or more motors, they're designed to perform all of the movement for you, offering a range of action including vibrations, rotations, thrusting, and sucking. With something for everyone, our automatic masturbators provide a relaxing and thoroughly satisfying experience.
Today's automatic masturbators are true marvels of technology, offering advanced features like heating, drying, and even audio features. With over a hundred models available in our shop, there's something to satisfy every desire. For your first purchase, we recommend selecting a thrusting model that replicates the motions you're already familiar with. If you're looking for something new and exciting, try one of our models with all the bells and whistles, which will leave you satisfied like never before.
An automatic ass or torso
Our latest range of automatic asses and torsos represents a significant leap forward in the men's sex toy industry. These products are distinguished by their cutting-edge motorised features, delivering a spectrum of sensory experiences. Key highlights include dynamic thrusting motions, powerful vibrations, and advanced suction systems, all combining to create a deeply immersive and varied experience. Additionally, select models come with a heating function, enhancing the realism and comfort
The orifices of these masturbators are crafted with meticulous attention to detail, featuring a ribbed texture with pleasure nubs inside, remarkably simulating the feel of a vagina or anus. This focus on detail ensures an intensified stimulation and a more real-feeling experience. Made of top-tier materials like TPE, these masturbators not only mimic the feel of human skin but also promise long-lasting durability and safety.
Ideal for those looking for a high-tech solo pleasure experience, deeply gratifying, and incredibly lifelike, these automatic ass and torso masturbators are a groundbreaking innovation. They skillfully blend technological ingenuity with precise anatomical design, offering an unmatched level of satisfaction.
What kind of material should I choose?
A TPE masturbator
For a soft and comfortable experience, we recommend one of our TPE models. Made from a plush and lifelike material that perfectly replicates the feeling of real sex, our TPE models are an excellent choice for those seeking total realism. Most of our vaginas, busts, and asses are crafted from TPE to ensure a lifelike, satisfying experience.
Compared to silicone masturbators, TPE models are generally more affordable, making them an excellent option for those on a budget who still want a comfortable and enjoyable toy.
Tip
TPE is a porous material that requires rigorous care and cleaning to keep it in excellent condition.
A silicone masturbator
If you want a hygienic and durable sex toy, silicone is the perfect material! LOVE AND VIBES offers silicone masturbators to meet the needs of our most demanding customers.
Non-porous, firm and resistant, silicone is often used for medical devices, but is also the perfect material for sex toys as it does not absorb micro-elements (such as bacteria, for example). This material is also very heat resistant: you can sterilise certain models for total hygiene and safety.
Different orifices for different kinds of pleasure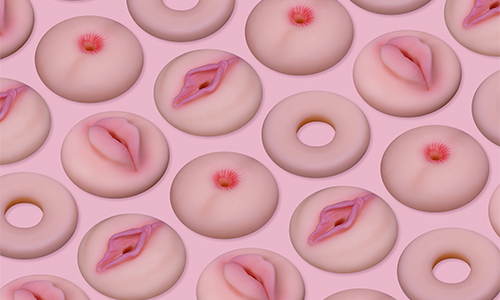 A vagina masturbator
Crafted with incredible attention to detail, the orifices of our masturbators feature highly realistic depictions of female genitals. This is the most popular type of orifice among our customers, and it's easy to see why. On the exterior, our masturbators showcase a vulva with lifelike representations of the clitoris and labia minora. On the interior, various textures like ribbing or pleasure nubs simulate the feeling of a real vagina, delivering intense sensations to satisfy your desires.
An anus masturbator
For those who prefer anal sex, we offer models with an anal orifice. These inserts are slightly tighter than their vaginal counterparts, providing a true-to-life sensation during use. The interior of the anus is also textured for maximum pleasure, offering an intense and satisfying experience with every thrust. This type of insert is ideal for those who love anal stimulation or have an unfulfilled fantasy that they'd like to explore.
A blowjob masturbator
Our blowjob masturbators are designed to resemble a mouth down to the last detail. From the beautiful full lips on the exterior to the tongue, ribbed palate, and even teeth, the experience is incredibly true to life. This kind of toy is perfect for those who are fans of fellation and are seeking the unique sensations that come with it. With our masturbators, you can indulge in the pleasures of oral sex whenever and wherever the mood strikes.
A neutral masturbator
In addition to our gender-specific and anatomically accurate models, we also offer masturbators with a completely neutral insert. These models feature a simple orifice with a textured interior. We've included these models in our selection for their affordability and discretion. They're a great option for those seeking a more private experience or who prefer a more general sensation. Additionally, they're suitable for men of all sexual orientations.
How much should I spend on my masturbator?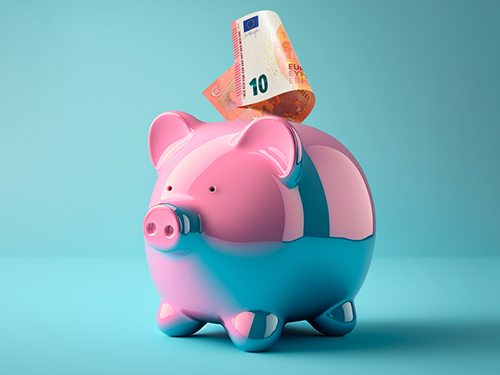 At our store, we offer masturbators to suit every budget, so you'll find the perfect toy for your needs. If you're new to the world of male sex toys or have a limited budget, our manual models are an excellent starting point. Starting at around £20, you can purchase a high-quality vagina that will deliver intense pleasure and provide a satisfying solo session.
For those seeking a more high-tech and sophisticated product, we also offer advanced models with a wide range of features and sensations. These masturbators can cost several hundred pounds, but they're recommended for demanding users who are looking for the latest technological developments to achieve the ultimate in male pleasure.
Now that you have all the information you need, you're ready to select the masturbator that's right for you from our extensive collection. To ensure that you get the most pleasure out of your new toy, we've also included a step-by-step guide on how to best use a masturbator. With our help, a world of intense and satisfying pleasure is just at your fingertips.