How to choose a bondage toy
Are you tempted by
BDSM
... but don't know where to begin? Do you find the world of bondage intriguing yet intimidating? Then you've come to the right place! The LOVE Team has written this buyer's guide especially for you. This guide will tell you all you need to know about bondage toys, to help you choose the perfect toy for your first BDSM experience.
Bondage and discipline are two erotic arts that belong to the world of BDSM (Bondage, Discipline, Dominance, Submission, Sadism and Masochism):
Bondage: the use of restraints, ropes, handcuffs or other toys to restrict your partner's movements.
Discipline: the introduction of rules, punishments and rewards into a sexual or erotic relationship.
The practice of BDSM requires unwavering trust on the part of each partner, complete with consent and free communication. The most important rule is always to respect each other's boundaries and to never try to go beyond them without prior consent. The aim, of course, is to share intense pleasure.
In this guide, the LOVE Team will show you the different types of toys you can use during your bondage and discipline sessions. Which toys are best for you and what are the criteria for choosing them? What are the essential safety precautions to take before venturing into this unknown world? This guide will answer all of these questions and more!
Why should I use bondage and discipline toys?
What are the benefits of experimenting with BDSM play with your partner? The LOVE Team has come up with an exhaustive list!
Rekindling the passion: Using bondage and discipline toys will help you break out of your regular sexual routine. They'll help you rekindle the flame, allowing you to rediscover the excitement, desire and passion of the early days of your relationship.
Living out your fantasies: These toys can help you fulfil your wildest fantasies. You'll discover a new way of relating to your lover by taking control or ceding all control to them.
Strengthening trust and communication: The most important thing when it comes to BDSM is to always respect your partner's wishes in order to ensure absolute trust. Talk to your partner and don't be afraid to express your desires and fears.That way, you'll strengthen your intimate bond and create an atmosphere of serene erotic exchange.
Discovering new sensations: Being tied up, being the object of the other person's desires or exercising your authority and subjecting your partner to your fantasies will give each of you a new kind of pleasure. Using bondage and discipline toys will help you recognise your erotic limits and even go beyond them.
Getting out of your comfort zone: Using bondage and discipline toys can help you test your endurance and stamina, and help you overcome the inhibitions that prevent you from being yourself. Open yourself up to this new experience and you'll feel invincible!
Start off slow: A pair of handcuffs
If you're new to bondage, start gently with a simple pair of handcuffs! With this classic "vanilla" bondage toy, you can make your partner do whatever you want by linking their hands together or cuffing them to a piece of furniture.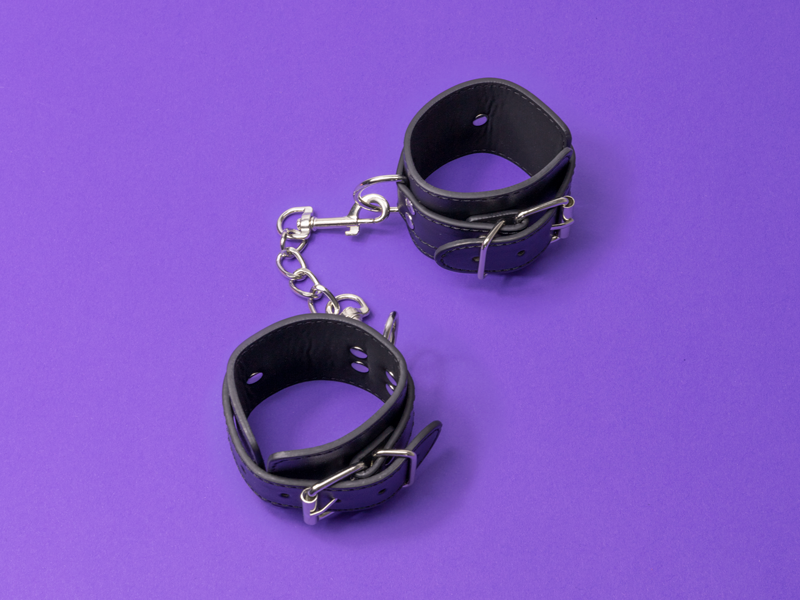 Our LOVE team has put together a list of different models for you to choose from:
Furry handcuffs: Covered with a layer of faux fur, these handcuffs are soft and perfect for beginners. They come in a variety of designs and colours.
Silicone handcuffs: Soft and hypoallergenic, silicone cuffs deliver pleasurable sensations and keep your partner's hands securely in place.
Metal handcuffs: Using these handcuffs will intensify the feeling of submission your partner will experience. You can use these handcuffs with other bondage toys to increase your dominance and your partner's pleasure.
Finally, don't forget that in addition to the wrists, you can also cuff your partner's ankles for more intense games.
The next steps: Restraints to restrict your partner even more
There are many ways to restrict your partner's movements even more. Here are a few suggestions from the LOVE Team:
During your bondage sessions, it's essential that you always respect your partner's consent and safety. Make sure you know how to use all your toys and practise removing them as quickly as possible so that things don't get out of hand.
For experts: Gags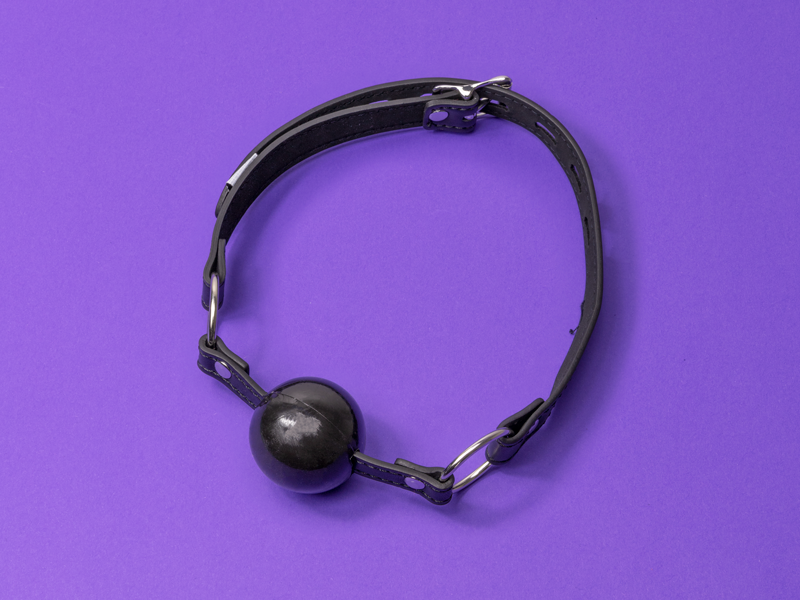 So you've already mastered the art of bondage and discipline and you're looking for even greater thrills. Why not explore the exciting world of gags? With a gag, you can silence your partner completely, increasing your dominance and making them totally dependent on you.
Ball gag: Adjust the strap to your partner's head and place the silicone or rubber ball into your sub's mouth. Once the ball is in place, your partner will be unable to speak. Consult our how-to guide How to use a ball gag for everything you need to know about this popular bondage toy.
Spider gag: This device spreads your partner's lips and cheeks, spreading their mouth open and making it impossible to form words. Your partner will feel totally vulnerable and at the mercy of your wildest fantasies.
The most important thing to remember is safety. Always check that your partner can breathe freely. Before each session, agree on a non-verbal signal so that they can let you know if they need help. Using a gag should be a sensual, fun and enjoyable experience.
The importance of consent
Without consent, experimenting with bondage and discipline is absolutely impossible. The aim is to enjoy an intimate experience for two, to experience explosive pleasure together. Express your desires to your partner, listen to his or her fears and set your own limits together. Agree on a safety word or gesture for your sub's safety and comfort.
Remember: without mutual respect, you should not be exploring the world of BDSM.
The LOVE Team hopes that this buyer's guide has helped you learn more about the exciting world of bondage and discipline. Feel free to
contact us
for more information anytime you need it. We're here to help you in your quest for more sophisticated sensual pleasures.