How to use a vibrating cock ring with a partner
Using a sex toy with your partner will increase your pleasure and strengthen the intimate bond that you share. A vibrating cock ring is the perfect toy to take your sex session to the next level!
By stimulating your partner's external erogenous zones during penetrative sex, a vibrating cock ring will make your bedroom activities even more exciting. Using a vibrating ring will even help you climax at the same time!
Follow the LOVE Team's advice to learn how to use a vibrating cock ring. You'll experience unforgettable moments of ecstasy…together!
1. Talk things over with your partner
If you're dreaming of using a vibrating cock ring to spice up your sex life, it's important to discuss it with your partner first. Consent is key! Explain to your partner that while you love having sex with them, you'd like to try something different.
As a general rule, you should always communicate openly about your desires and fantasies, so that your partner can express any questions or fears they may have.
2. Choose the right model
Choosing the right vibrating cock ring is very important. We recommend that you read our how-to guide: How to choose a cock ring. This how-to guide will give you a comprehensive breakdown of the different criteria (size, soft or hard materials, features) that you should consider before making your purchase. Do you want intense vibrations? Or a wireless remote to control your toy from a distance? Read our guide and take the time to study all the different models available in our shop.
3. Test all of your cock ring's features beforehand
Before you use your ring for the first time, we recommend that you explore all the different features. That way, when the time comes, you'll be able to use it more smoothly, so you can concentrate on the sensations rather than the user's manual!
Practise using the remote to explore the different modes and speeds. You'll know exactly what feels best when the main event comes.
For even more fun, you can explore the different features with your partner. That way, you'll both be incredibly excited before even taking off your clothes!
4. Clean your cock ring before using it
It goes without saying that you should follow the rules of basic hygiene when it comes to sex toys. Clean your cock ring with soap and water before every session to remove any dust and bacteria. Dry it with a clean towel. Don't forget to remove the vibrating bullet before cleaning the rest of the toy in water, otherwise you may damage it.
5. Use a lube
A bit of personal lube will make it easier to glide the ring over your penis, increasing your pleasure and comfort.
Water-based lubes are compatible with the vast majority of sex toys and will not damage them. It is also compatible with condoms. Do not use a silicone-based formula with a silicone cock ring.
Apply the lube to the cock ring and to your penis, reapplying as needed during your session.
6. Glide the cock ring onto your penis
Now it's time to use your cock ring for the first time! The LOVE Team recommends that you read our how-to guide: How to use a cock ring. You'll learn step-by-step how to put your ring on properly.
7. Switch the cock ring on... and enjoy!
Ready? Switch on your cock ring: the intense vibrations are about to plunge you into a sea of pleasure.
The vibrating cock ring will stimulate the base of your penis and testicles, as well as your partner's external erogenous zones (clit, labia, anus, etc.), increasing the sensations for both of you. Explore the different modes, change the speed, try out other positions: you'll soon know what suits you best!
LOVE Team Tip
Using a remote-controlled vibrating cock ring means you don't have to stop in the middle of sex, so you can enjoy the vibrations even more. Plus, remote-controlled models will make things even more fun, as your partner can take control of the remote (and the pleasure)!
8. Take off your cock ring
Carefully remove your penis and testicles from the ring. Wearing a cockring for more than 30 minutes may be harmful to your circulation. Your penis should be at rest when you take off the ring.
9. Clean your cock ring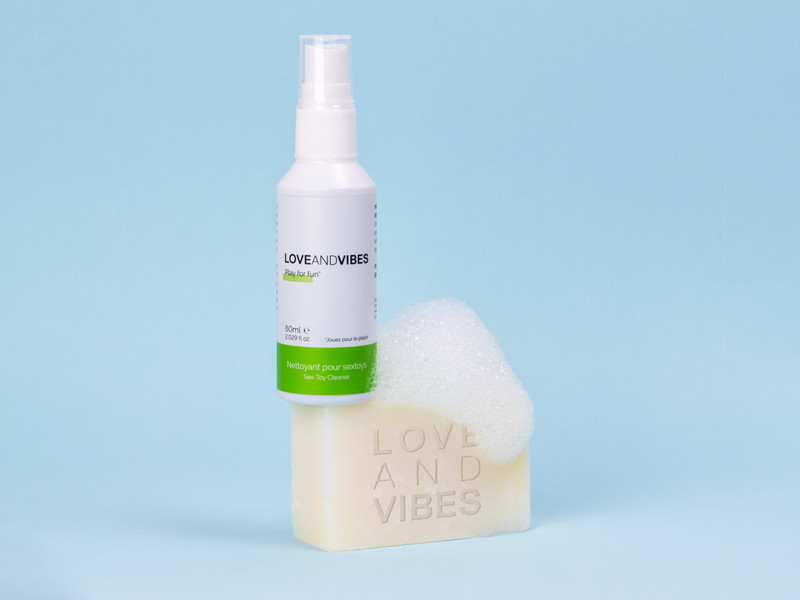 Clean your sex toy immediately after removing it to keep it in excellent condition for years to come. See step 4 for cleaning instructions.
The LOVE Team hopes that your new vibrating cock ring will rev up your partner play session! If you have any other questions, feel free to
contact us
at any time!