How to choose Ben Wa balls
In this buyer's guide, the LOVE Team will give you all the information you need to choose the perfect set of Ben Wa balls for you.
On our website you'll find a wide variety of different models, so it's up to you to decide which material, size, and weight suit you best, based on your experience and personal preferences.
Why should I use Ben Wa balls?
Ben Wa balls serve two purposes: strengthening your pelvic floor muscles (e.g., through Kegel exercises) and enhancing your intimate life. Once inserted, these balls, which consist of a weight and a small bouncing bead inside, will tone up your vagina to enhance your pleasure.
Pelvic floor rehabilitation: Ben Wa balls strengthen the muscles of the pelvic floor, preventing urinary leaks and effectively supporting your internal organs. They are especially recommended after vaginal childbirth or simply as your pelvic floor gets weaker with age.
Pelvic floor toning: Regardless of your age, it really pays to keep your pelvic floor toned and happy. Strengthening your pelvic floor will also help you know your body better.
Increased vaginal pleasure: In addition to the health benefits, Ben Wa balls deliver divine vaginal pleasure. If you wear them long enough, the vibrations created by the bouncing bead inside will stimulate your arousal and trigger extraordinary waves of pleasure.
Choose the right material for your balls
Ben Wa balls are available in a range of different materials. The most common ones are ABS, TPR, and silicone. Wondering about the advantages and disadvantages of each? Our LOVE TEAM explains the main characteristics of each material to help you choose the model that suits you best.
ABS Ben Wa balls
ABS is a rigid and sturdy plastic material found in many everyday objects. Here are its advantages:
Firmness: These very firm balls offer intense stimulation. They make Kegel exercises easier. However, be aware that this rigidity may feel uncomfortable for you as a beginner. In that case, opt for TPR or silicone balls.
Easy to clean: ABS is easy to clean. Simply wash your balls with water and soap to ensure perfect hygiene.
Cost-effective: ABS is a less expensive material than silicone but is still durable.
TPR Ben Wa balls
TPR (thermoplastic elastomer) Ben Wa balls offer unparalleled comfort and softness. They are particularly suitable for beginners. Here are their main characteristics:
Comfortable: These soft and flexible balls deliver exquisite sensations.
Affordable: TPR balls are slightly more expensive than ABS ones, but they are still wallet-friendly.
Require thorough cleaning: You will need to clean these balls properly as TPR is a porous material. Clean them with soap, let them dry, and store them in a dust-free area.
Silicone Ben Wa balls
Silicone is a super-luxe material used to make top-of-the-line toys. Here's why:
Comfort and easy insertion: Silky texture, easy insertion, softness, and comfort... every woman will love the feel of silicone Ben Wa balls!
Durability: Silicone Ben Wa balls are slightly more expensive than other kinds. However, with proper care, you'll be able to hang on to them for years.
Optimal hygiene: Silicone toys are non-porous, making them easy to clean. For impeccable hygiene, you can even sterilise your Ben Wa balls by boiling them in water if desired.
Choose the right weight for your Ben Wa balls
It is important to choose a weight that matches your level of experience and toning goals. Here are some options to help you find the most suitable Ben Wa balls for your specific needs.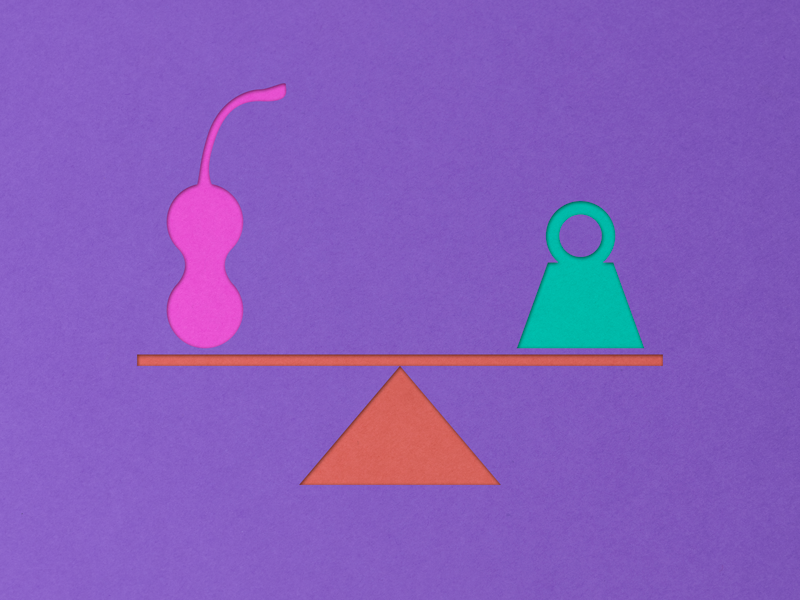 Lightweight balls for beginners
Single ball: Using a single ball will help you familiarize yourself with your toy. It will be easier to insert, and you'll have better control over your pelvic floor muscles. You can gradually get used to the new sensations at your own pace.
Lightweight ball: If you're a total novice, a 30-gram ball should suffice. By practising your Kegel exercises over time, your pelvic floor will get stronger, and you'll be able to move up to a heavier ball.
Keep adding weight according to your experience (and desire!)
As you progress, you should increase the weight of your Ben Wa balls. That way, you can continue to strengthen your pelvic floor and increase your pleasure.
Assess your Progress: Once you feel capable of wearing your Ben Wa ball for at least 20 minutes at a time, you can consider choosing a heavier ball.
Add an extra Ben Wa Ball: You can opt for a set of two balls connected by a cord. That way, you can increase the resistance of your muscles and further strengthen your pelvic floor.
Opt for a heavier Ben Wa ball: You can also opt for a heavier single ball. To avoid straining your pelvic muscles, select a ball suited to your level of experience. This way, you can progress at your own pace and in complete safety.
A set of Kegel balls: the affordable solution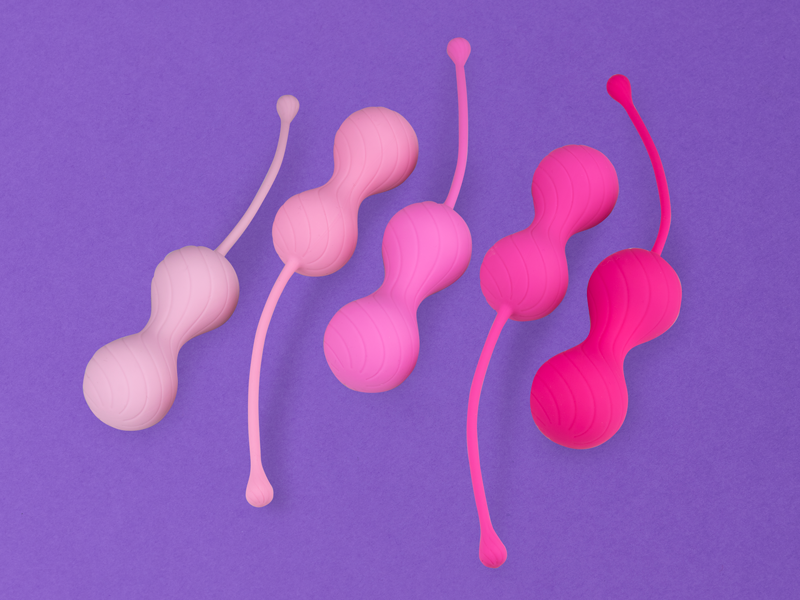 Purchasing a pack of Kegel balls will allow you to progress slowly, strengthening your muscles without strain. A set of Ben Wa balls is ideal for those who want to quickly obtain the best results when practicing Kegel exercises.
A variety of weights: A pack usually contains between 3 and 6 Ben Wa balls. The different weights allow you to adapt the weight for steady progress.
Affordability: Instead of buying one ball, then another, and then more still, as you get stronger and stronger, you can purchase a complete pack of different weights at once. That way, you can progress at your own pace and save money.
Easier training: Having a complete pack at your disposal allows you to make regular progress and not interrupt your training schedule. You'll have all the necessary equipment in one go and will be able to increase the difficulty of your exercises at an appropriate rhythm.
Ben Wa balls with extra features
In addition to the classic kinds, some Ben Wa balls have exciting extra features. Your training will be even more stimulating with one of these models!
Vibrating Ben Wa balls with remote control
Vibrating Ben Wa balls emit intense oscillations, which you can control with the handy remote control included.
Remote control: With the wireless remote control, you can enhance your experience and adjust the intensity of the stimulation and the vibrations as you wish.
Shared pleasure: Your partner can control the vibrations themselves and give you intense and controlled pleasure at the rhythm of your choosing. Your sensual experience will become even more exciting!
External stimulation: You can use a vibrating remote control to stimulate your external erogenous zones for a more intense training session.
Ben Wa balls with a stimulating texture
Ben Wa balls don't always have a smooth and uniform texture. Some have funky patterns, dots, or straight and wavy lines. These balls will give your vaginal walls an even more intense massage. They'll increase your well-being, blood circulation, and pleasure! These kinds of textures can also enhance the effectiveness of your Kegel exercises.
Remember, using Ben Wa balls serves a dual purpose: strengthening your pelvic floor and enjoying an insane amount of sensual pleasure!
If you are still undecided and need more information, our
LOVE Team
will be happy to answer all your questions. See you soon!